Moffatt Thomas Celebrates St. Luke's 2016 Ralph J. Comstock Jr. Light of Philanthropy Award Honorees
Ralph J. Comstock Jr. Light of Philanthropy Award, St. Luke's Health Foundation
The Light of Philanthropy Award is given annually to individuals who reflect the spirit and philanthropic leadership of the late Ralph J. Comstock, Jr., demonstrating remarkable qualities in leadership, philanthropy, and humanitarianism benefiting St. Luke's and other worthy community charities.
Each year, the award recipients are honored at the St. Luke's Ball.  Moffatt Thomas attorneys Mark Peterson, C. Clayton Gill and Matthew J. McGee hosted a table at this year's gala celebration.
Doug Oppenheimer, chairman of the St. Luke's Health Foundation board of directors, was pleased to honor the Bettis family. "This is a first for us – the Comstock Award has been presented to many worthy individuals and couples, but never to a family," he said. "I am especially touched to have the opportunity to recognize two generations of philanthropists. It is a testament to their upbringings and families that Laura and Janelle have so seamlessly followed in their father's footsteps."  More on this year's celebration available here.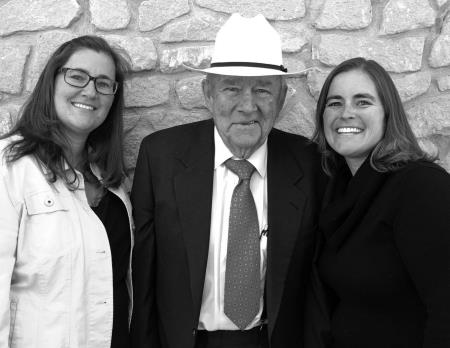 2016 Light of Philanthropy Award Honorees
Harry Bettis, Laura Bettis, and Janelle Wise
This year, the St. Luke's Health Foundation honors Harry Bettis, Laura Bettis, and Janelle Wise in recognition of their outstanding achievements in leadership, philanthropy, and humanitarianism.
Harry Bettis is a fourth-generation Idahoan with a pioneering spirit. He began his career taking over the family cattle ranch, and has been involved in the banking community in Idaho since 1971. As president and treasurer of the Laura Moore Cunningham Foundation, Harry continues the philanthropic legacy established by his great-aunt, ensuring future generations have every opportunity to thrive and succeed.
Laura Bettis, like her father, is independent, grounded, and an avid rancher. She is a graduate of Duke University and the University of Idaho College of Law. Laura serves as secretary and co-administrator of the Laura Moore Cunningham Foundation from the Donnelly, Idaho ranch she shares with her husband and two children.
Janelle Wise, Harry's youngest daughter, is an adventurer, having visited every state and more than 40 countries. She studied psychology at Seattle Pacific University and has a master's degree in counseling from the University of Idaho. Janelle is vice president and co-administrator of the Laura Moore Cunningham Foundation. She and her husband have four children.
Guided by Harry, Laura, and Janelle, the Laura Moore Cunningham Foundation has become one of Idaho's largest charitable foundations. Since 1963, the Foundation has gifted over $90.5 million to hospitals and other health-related causes, social services, art, recreation, and educational scholarships.
---
Moffatt Thomas has been providing legal services to the Pacific Northwest and Intermountain West since 1954.  The firm serves clients in the full-spectrum of business, litigation, and regulatory areas. With Idaho offices in Boise, Idaho Falls and Pocatello, the firm is strategically situated for direct contact with the governor's office, the legislature, federal and state administrative agencies, area businesses, and national and international corporations engaged in business throughout the region. Since its inception over 60 years ago, the firm's current and former lawyers have achieved the highest leadership positions in national, state and local legal and civic organizations.
Leading Idaho Law. Moffatt Thomas leads the field in litigation, business, banking, insurance, agriculture, employment law and more by bringing together many of the top legal minds across Idaho. More information is available from the Moffatt Thomas website:  www.moffatt.com.